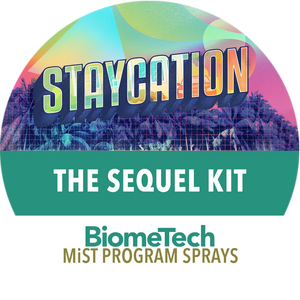 StayCation The Sequel Kit! The Sequel allows for you to open up to the deeper gratitude of the present moment, continue your FEEL GOOD, while feeling energized and sensual. BiomeTech's combination of Enzyme G, Vanilla, and BU brings you another delicious StayCation package.
Benefits:

Enhances feelings of well being

Enhances the senses

Support for relaxation

Makes nutrients more bio-available
This package contains 3 products: Enzyme G (1oz), Vanilla (1oz), & BU (2oz).
Enzyme G
Nutritional support that enhances feelings of well-being and gratitude - "The Real G Spot" plus heightening bodily functions and senses. When taken in conjunction with other sprays, Enzyme G increases their effectiveness. G stands for Gratitude and G-Coupled Protein Receptor.
Vanilla
Nutritional support for relaxation, by hitting all of the vanilla receptors in the brain. Vanilla is an aphrodisiac and this spray helps you feel carefree, soft in your body, happier and expanded. Do not combine with chocolate.
BU
Nutritional support to increase production and absorption of micronutrients, especially in the intestines. Contains the most physiologically active form of B-12 (the body and brain's source of fuel & energy). Can enhance production and absorption of micronutrients from the intestine and allow greater penetration into the brain. BU makes nutrients more bio-available.