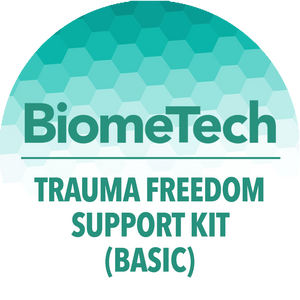 The Basic Trauma Freedom Support Kit. Supports the gabanergic part of the brain (the part of the brain that promotes relaxation and calm) by providing nutrition to stimulate the brain's own natural production of GABA. GABA filters the brain's thought transmitters and the ability to discern desirable and undesirable thought patterns. Mood-elevating nutrients utilized as a sleep aid that feeds and calms the nerves. Can be used as support to relieve the stress of daily activity.
Benefits:

Promotes sleep

Elevates mood

Aids in calming the nervous system
This package contains 3 products: TQ Plus (1oz), Aqua Calm (2oz), G5 (1oz).