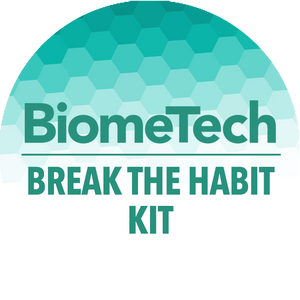 We all have habits that hold us back from living our best lives - whether it is chocolate, sugar, poor nutrition, racing thoughts or other daily drugs that we use to numb out or exit the challenges of life. We've put together the Break the Habit kit to support you as you decide which habit needs to go!
We've included a few special things in this kit - IG powder (extra nutrition for the cells), Chocolate (the derived form of healthy chocolate for those with a sweet tooth), Sugar (the healthy form of BiomeTech sugar), and the powerhouse Anavone and Ananda sprays.
This package contains 5 products: IG Powder (Small glass jar), Chocolate (1oz spray bottle), Sugar Powder (Small glass jar), Anavone (1oz spray bottle), & Ananda (1oz spray bottle).
Benefits:

Supports the body in getting what it needs
Helps to create new patterns in your brain
Assists in fighting off sugar and alcohol cravings