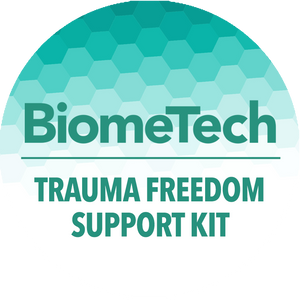 The Trauma Freedom Support Kit. For those in our community who most want to experience the calm of releasing some of these traumas. This is a special offer that requires a support call from the Client Care team to determine the number of sprays and the amount of crystals used per dose.
Benefits:

Support for those dealing with high levels of stress and anxiety

Helps to ignite better functioning with learning and memory

Assists in promoting happiness and well-being
This package contains 6 products: Gaba Crystals, BMX Crystals, Night Crystals, PLUS Support Sprays: TQ Plus (1oz), Aqua Calm (2oz), G5 (1oz).