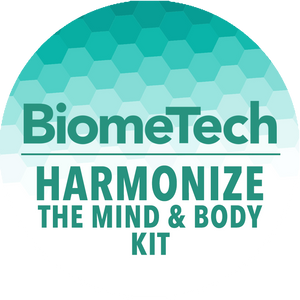 This package includes 4 products: PN1 (2oz spray bottle), PCE (2oz spray bottle), Youth Plus (2oz spray bottle), and Alpha (1oz spray bottle).
This package creates the space, wisdom and cleansing elements for your body & mind to align and harmonize.
It also supports your chemistry to cleanse the body of any germs or bacteria, opens the lungs & pineal gland (the 3rd eye), balances your hormones and circadian patterns for deeper levels of sleep, DNA repair, while having mental clarity and focus throughout your days. Move through your life with ease and grace with our Harmonize the Mind & Body Kit.
PN1
Nutritional support to regulate circadian sleep patterns. PN1 is both calming & regenerative. Supports the immune system. PN1 is nutritional support to remove heavy metals, by attaching to harmful toxins, and facilitating the body to purge them from the system in a safe & efficient manner. This nutrient also supports the immune system, helps the body resist bacterial and fungal infection, and promotes biochemical calm and a sense of well being by providing nutrient support to increase the serotonin levels in the brain. Feeds the pineal gland.
2oz spray bottle.
PM spray.
Benefits:

Calming
Regenerative
Supports the immune system
PCE
A combination product that is comprised of our Oxygen product, PCA, and SAM nutritional products.
2oz spray bottle.
AM spray.
Stabilized Oxygen, an essential nutritive element that supports aerobic metabolism and increases the energy output in the body's cells, is combined with neuro-nutrients, to improve mood, increase energy levels and help detoxify cell membranes to benefit the immune system, help clear the blood of germs, viruses and bacteria. PCE is nutritional support to effectively increase muscle energy on a cellular level, oxygenate the hemoglobin in the blood and neutralize carbon monoxide. It aids in the relief of PMS, general pain, joint, integrity, and arthritis.
Benefits:

Increases energy output

Helps improve mood

Assists in detoxifying cell membranes
Youth Plus
Nutritional cellular support designed to restore hormone levels back to the level they were during pre-puberty years - the hormones that thrive during juvenile development. Taken at night with Ananda, Youth Plus supports deep regenerative sleep, promotes DNA repair, weight loss, cognitive function, and heightened sex drive.
2oz spray bottle.
PM spray.
Benefits:

Restore hormone levels
Aids in deep regenerative sleep
Promotes DNA repair
Alpha
Nutritional support to promote mental clarity. An energizing nutrient that helps to stimulate dopamine production in the brain. Great for A.D.D. and A.D.H.D.
1oz spray bottle.
AM spray.
Benefits:

Promotes mental clarity
Energizing nutrient
Stimulates dopamine production